While a modern grand most often wears a shiny, black coat, my Dörr fortepiano has a flowing mane. Dormant behind the ancient walnut trees, a golden lion stares at me! Do you see it?
The veneer of early 19th-century pianos
The veneer is one of a piano's most striking visual elements. An excellent choice of wooden coat for the piano certainly adds to its appeal. With the choice, I do not only mean opting for walnut over cherry. It would be crucial to choose particularly nice trees, and then – to cut that tree in a way that made it possible to use the veneer as an elegant and stunning decoration of the piano.
In the early 1800s, pianos were still coated in veneer instead of in heavy black – just like the violin!
No one would think of painting the violin black. So why did it happen to the piano? I don't know. But I like pretty wood, and most of the time, I like to see it! Each type of wood has its peculiar beauty, and even each individual tree has a special pattern – almost like our fingerprints, if you like!
(By the way, these pictures show Anton's violin meeting my piano for the first time. Do you think they will like playing together..?)
Veneer damage on old pianos
However, if you have studied the photos from my earlier blog posts, you have certainly seen that the old Dörr fortepiano from around 1830 does not look sparkling anymore. In last week's post, I explained some of its structural and less apparent problems, but this time, you can all see clearly what I mean: the veneer is damaged.
In some places, pieces of the veneer are missing. In other places, it has simply frilled up, or has large scratches. Overall, the surface looks dull.
In fact, most of the surface has been matted down even more, as the old shellack was removed by the cabinet maker. Shellack varnish has been used for centuries to seal and protect wood, and to give furniture and other items a pretty, glossy look – but my piano is far away from that look. Yet.
First, its wounds must be taken care of; the traces of time that prevent its future…
Can damaged veneer be fixed?
Although there is certainly no quick fix to damaged veneer, patient and skill can in fact produce excellent repairs. We want to preserve as much as possible of the original veneer, but there are spots that must be dealt with.
For instance, this corner edge has little dents and damages:
Although it will not influence the piano's sound, it takes away from the overall impression.
There are countless little damages like this. I'm glad I do not have to deal with it! But the cabinet maker, Wolfgang Bischoff, is a patient man who wants the end result to be stunning. Here are some repairs he is currently undertaking.
Due to damaged spots in the piano lid, Wolfgang Bischoff cuts out a triangle or a suitable shape around those spots and inserts new pieces of somewhat similar veneer. He will even dye it later on to make it an almost invisible repair.
The edge around the lid was in need of new pieces, as well. Here, they have just been glued on and still need some intermittent strips of tape: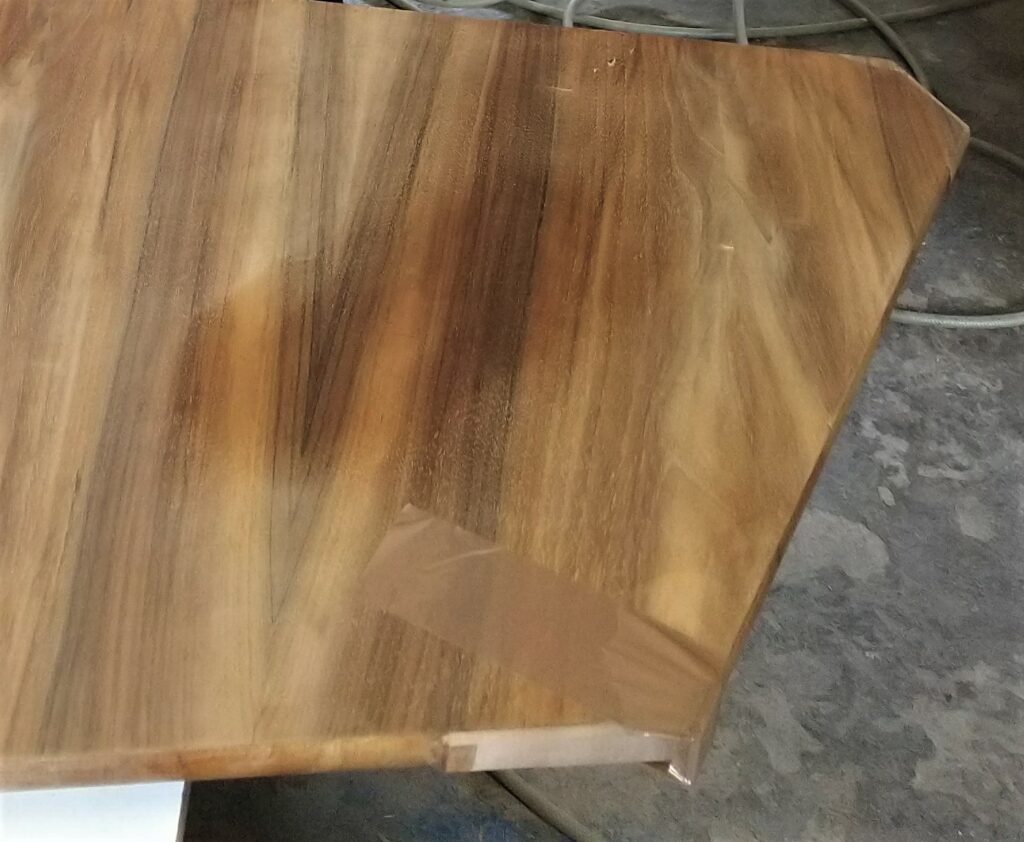 The same strategy is used for a larger patch along the back of the piano:
The long, somewhat brighter strip of wood along the edge, is the replacement piece. I'm excited to see what it will look like later on, with some stain and some new coats of shellack!
Matching old veneer
Of course, it is almost impossible to find veneer which is matching exactly, as this would mean looking for the tree's doppelganger! But to make the task just a little easier, Wolfgang collects bits and cut-outs in the back of his workshop, which he then looks through when he needs a tiny piece:
Watching old wood return to life
Still, we need much imagination to 'see' this old piano all prettied up and looking wonderful again! It will still take a few months of work.
But Wolfgang Bischoff knows a trick which is truly imagination-triggering. He sprinkles the wood with an alcoholic resolution, and all of a sudden, the wood comes alive:
Oh, look – there's the lion! Just underneath the bottle…
Let me give you a close-up below:
Oooh, the lion! Is this a sign of how the piano will roar, in just a few months' time? I certainly hope so! And I'm so glad that no one ever gave this piano a thick, black coat.
Christina Kobb, 19 May 2023